The blank white screaming screen – it's a dreadful entity for professionals belonging to any field. Because it's always hard to start from scratch and take the first step.
As bloggers, meeting your editorial calendar deadlines is of utmost importance. But, once you've written blog posts in particular formats, you might find yourself in deep water. You fear that you no longer have a unique and compelling blog post idea to serve your audience.
For keeping your audience engaged, you'll need to keep an editorial balance. But, lingering on the stressful feeling will only suck up a good amount of your time and energy.
In most cases of this kind of block, you'll find that the inertia of motion will sail you through. You haven't lost your ability to produce high-quality and value-adding content. You only need inspiration to come up with new engaging angles.
Here is a short cheat sheet you can download to learn about 6 writing strategies to add variety to your blog.
To help you in the writing cause, I want to share 6 tools and strategies with you.
Here goes number 1. 
1. Have fun with top industry publications, popular keywords and Buzzsumo
Are you missing out writing on the most hottest subjects in your niche?
Here's how you can find out – Plug in a competitor's URL at Buzzsumo.com and press the search button. The tool returns the most popular content on your keyed domain.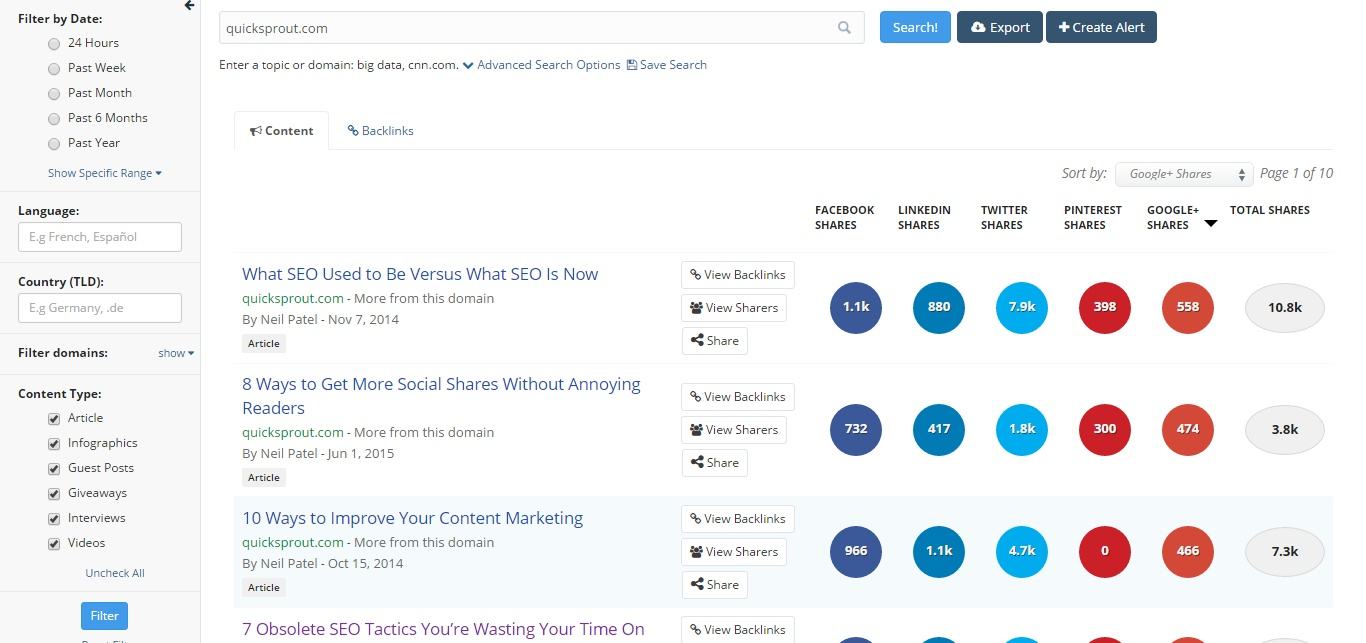 You can filter the content by date (the past 24 hours to a year), content type (article, infographics, guest posts and the like), language and country.
You can also discover popular content by keying your industry keywords.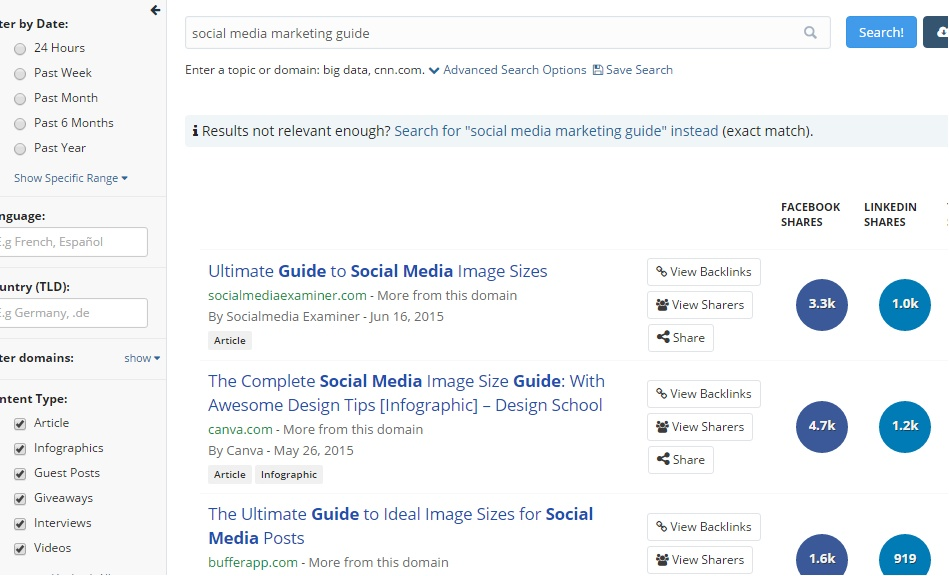 In particular, note these 3 aspects of the content.
The headlines that are getting the most shares – 80% of people never read past theheadline, but they still share the article on social media (if they find it compelling).
My article "Get Your MBA in Internet Marketing with These 12 Guides and 2 Courses" was inspired from a popular article I found at Copyblogger. And, it ended up doing well on social.
Which social network is getting the content the most shares – If you've a following on a particular network, then it's useful to create content that is getting the most shares on that network.
The specific characteristics of the most shared content – content type, length, media elements and formatting.
For example, I found that Rand's whiteboard episodes dominate social media for content around "link building".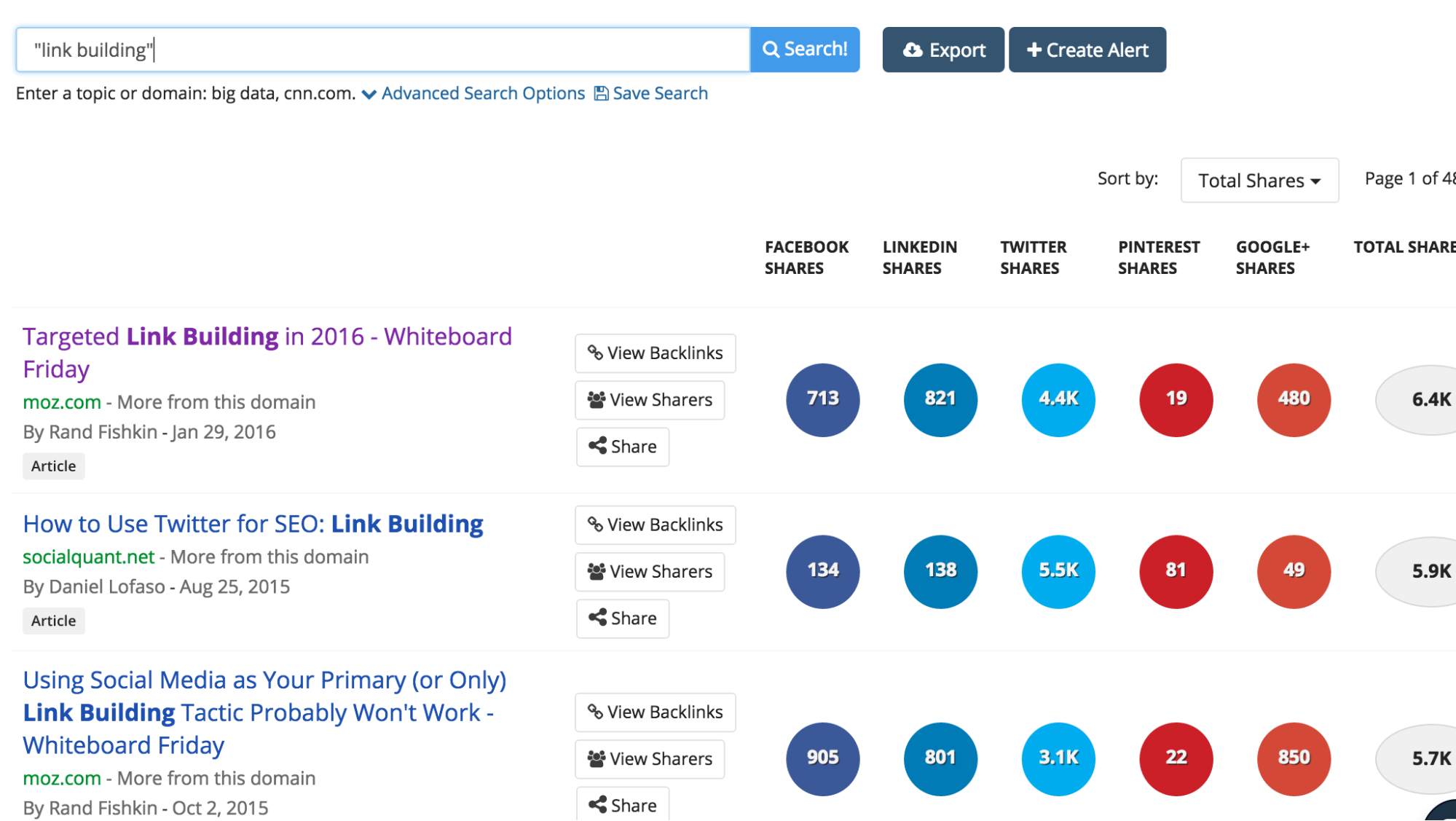 So, if I decide to write on link building, I can experiment with video content.
Buzzsumo can also fetch trending subjects. Just click on the "Trending Now" button at the top. Then, choose your niche from the left sidebar. You'll be presented with currently trending content.
Here are the results for the trending content in marketing (at the time of writing this post).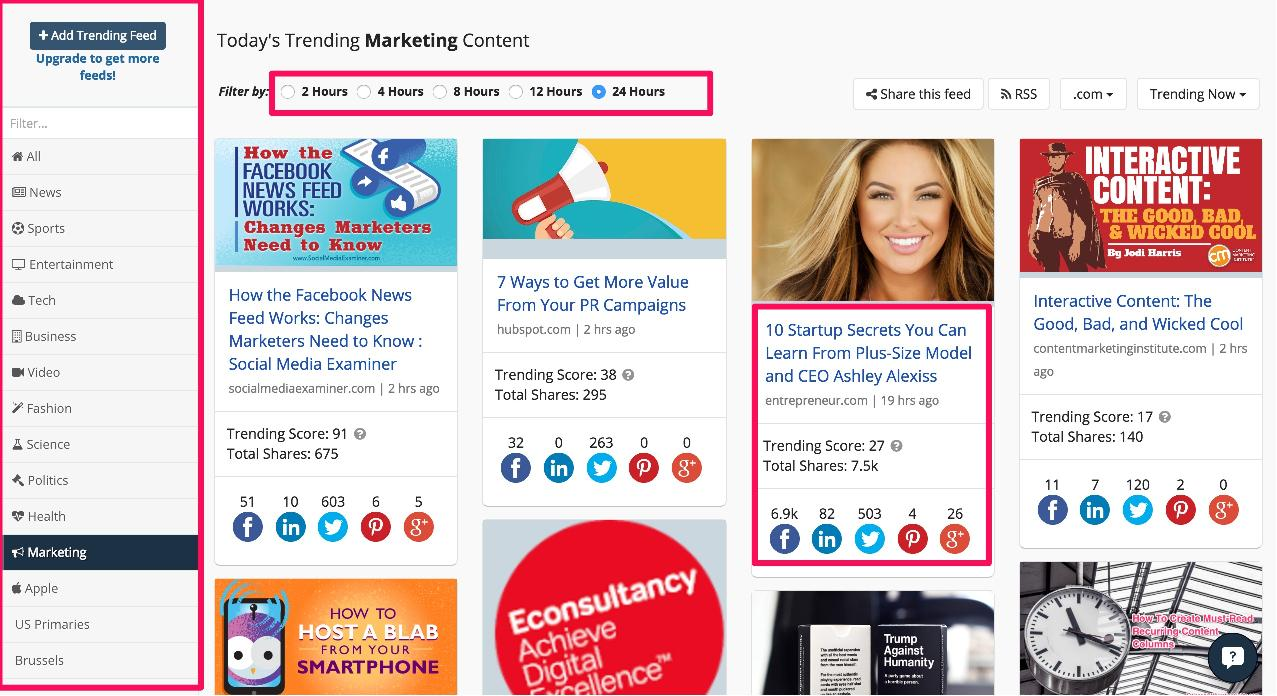 As you can, see the post "10 Startup Secrets you can learn from Plus-Size Model and CEO Ashley Alexiss" is gaining a lot of traction.
This gives you an idea on how to come up with writing ideas that involve interesting comparisons. I've written a similar post in the past.
And, it seems to be doing well on social media.
If you opt for the paid version of Buzzsumo:
You can perform a content analysis around keywords, find out influencers that have shared your flavor of content in the past and much more.
2. Compile all the latest published posts from your favorite blogs inside Feedly
You can manually visit your favorite blogs and content communities to stay on top of the content published. Scanning the titles of published posts can inspire new content ideas. Or, you can always improve upon interesting content pieces.
But, you can save a lot of time by compiling the RSS feeds of your beloved blogs in a single place. Meet Feedly – a great tool to collect posts from multiple sources at one place.
Kevan Lee uses Feedly for keeping tabs on the latest content published on his favorite blogs. He also curates content using the tool.
You can add websites to your feed from the search bar (located at the top) or from the "Add Content" option located in the left sidebar.
You'll need to click on the green '+' button to add a subscription to your Feedly account.
You can also organize the content from the feeds in suitable categories.
You can use Feedly on mobile and change the way you want to view the latest stories. If you're only going to scan the headlines, then use the 'title-only' mode.
Once you add a bunch of high-quality websites inside Feedly, new content ideas will be plentiful. Don't forget to record your interesting article headlines using a notes app on your smartphone, spreadsheet or as a note in Evernote.
3. Log on to popular Q&A websites and forums in your niche
When you're struggling to come up with writing ideas, you're basically unable to come up with subjects that will resonate with your target audience.
A fix to this problem is hanging out on the websites where your audience hangs out and expresses themselves.
One such popular website is Quora. It's a high-quality version of Yahoo Answers and has quickly risen to become the 140th most popular website globally.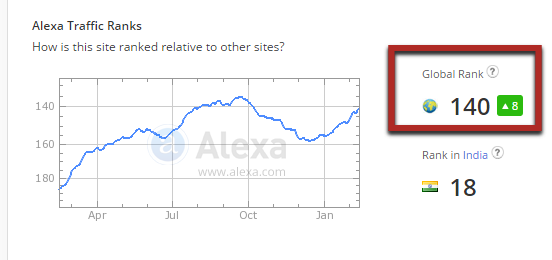 Quora has questions around wide-ranging subjects. You'll need to start by filling topics in your profile's "Knows About" section.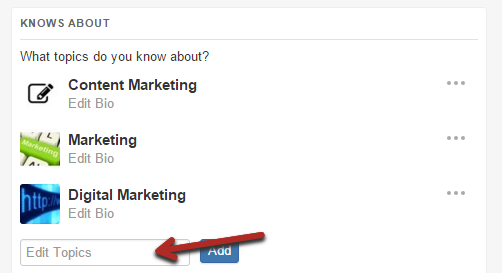 Once you've organized your profile, you'll get questions asked by the website members around your subjects.
You can use the stats of a question in the right sidebar to find the most popular questions.
StackExchange works similar to Quora – use the drop down menu at the top to search for relevant subjects.
It has different filters for sorting the questions. For example, all sites have associated tags.
You can also filter the most viewed and most voted questions.
Another huge Q&A website is Reddit. You can search for relevant sub-reddits (mini-forums on a subject) by entering your niche keyword in the search function at the top.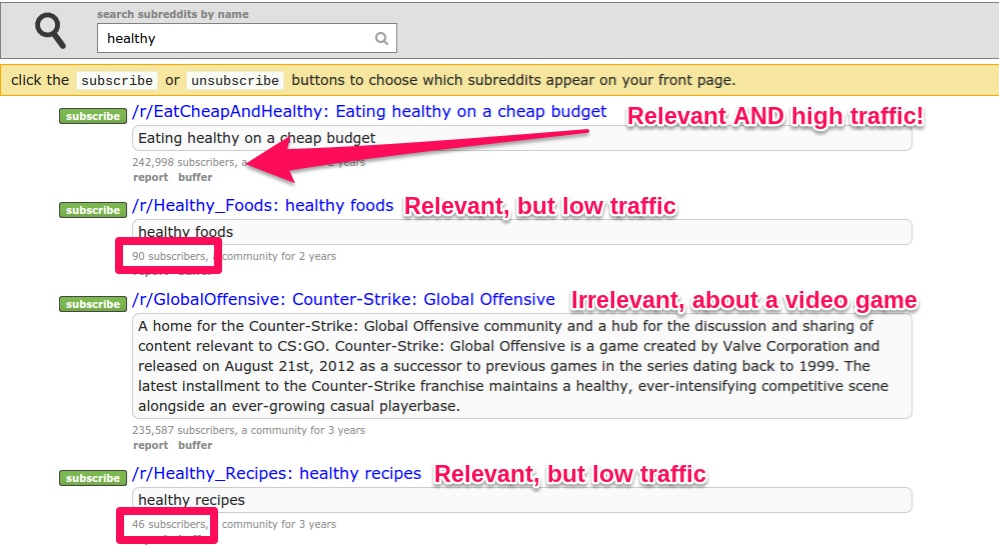 You can also use metareddit for coming up with more relevant sub-reddits.
Once you've built a list of relevant sub-reddits, you can explore the top posts in each. The posts that get the most upvotes and comments should make for a good blog post.
You can also scrape niche forums and popular questions using tools like FAQFox. I mention these two methods in this article.
You can also dig Disqus comments to come up with content ideas. Search for such conversations using a query like – site:disqus.com/home/forums/ "niche keyword".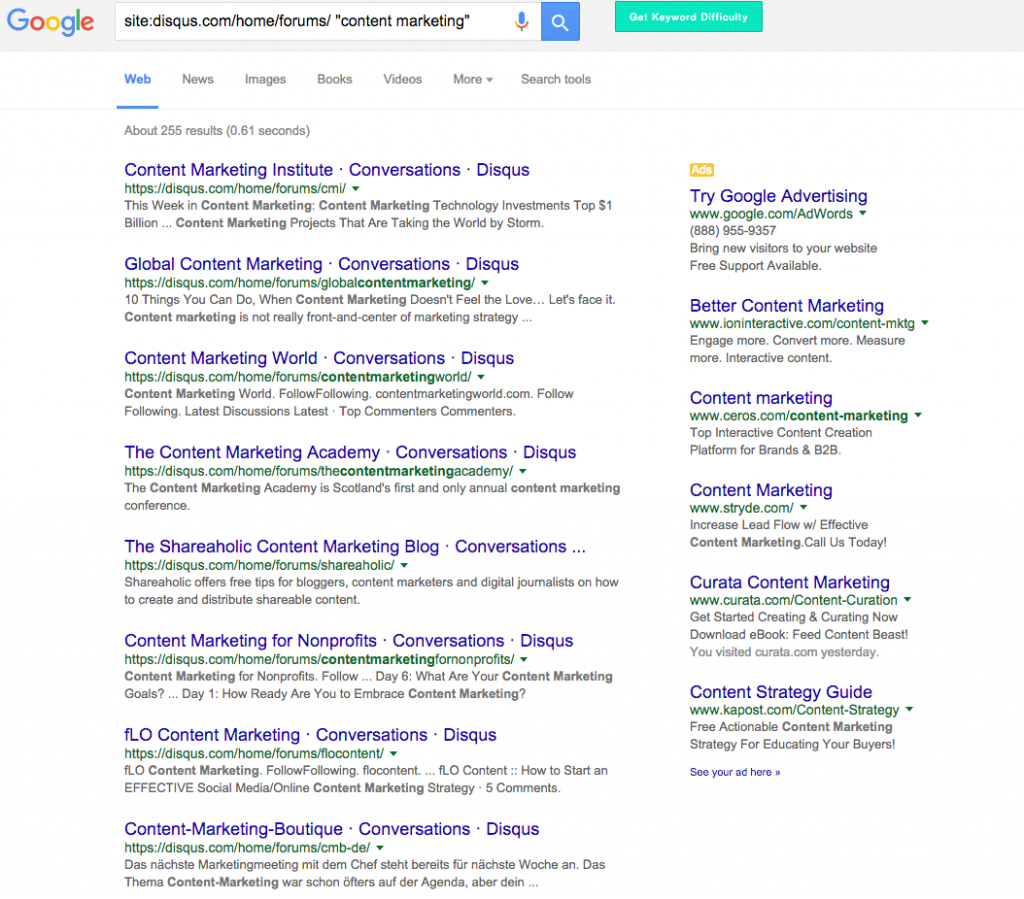 Besides generating ideas, you can also extract the exact words used by your target audience. Brian Dean came up with the title of his post on TrustRank by using a variation of a pertinent question on forums.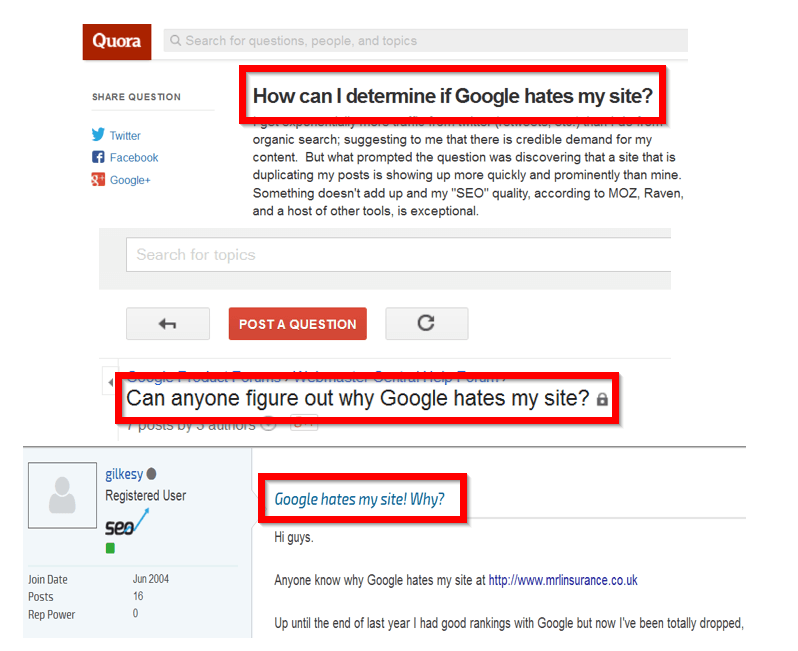 And, he quickly started ranking for the term in the SERPs.
4. Crunch data from your Google Analytics reports
Google Analytics (GA) is one of the most powerful tools with actionable insights for bloggers. Let me show you 3 ways to use GA for content inspiration.
1. Navigate to Behavior > Site Content > All Pages to get your website's most popular pages. Add a filter, like "blog," for filtering non-blog pages.

The default metric sorting your posts will be pageviews – which is a good place to start.
A more robust metric is the average on-page time your visitors are staying on a page. Switch to the comparison view to find a clear cut percentage love of posts vs. the overall website.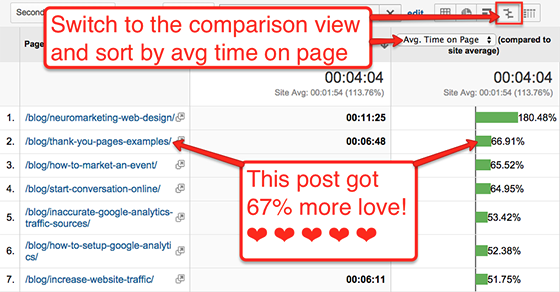 You can search for top posts from particular categories in your blog.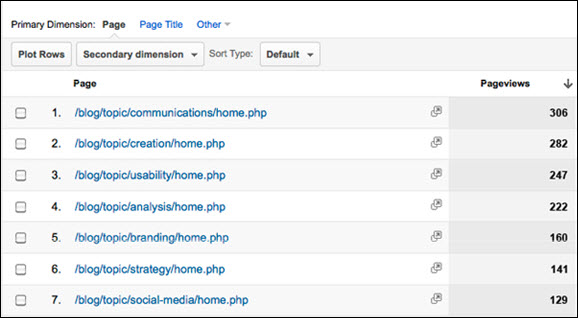 Before you arrive at a new idea based on the above analysis, remember the following factors that might skew your data.
Formatting and on-page user-experience factors
Video and other media elements in the post
Content length and type
2. Did you know that you can set up a site search report inside GA?
It returns with the terms people search for when they visit your website.
The report will give you content ideas that your own audience is eager to know.
Here's a quick tutorial by Orbit Media Studios on setting up the report.
Once you've set up the report, you'll need to navigate to Behavior > Site Search > Search Terms to access the data.
3. Outgoing links to authoritative sources help in establishing your credibility to the visitors and even help search engines in determining relevancy.
So, if you regularly link to external resources in your blog posts, then you can tag these links and track the clicks and pageviews on them.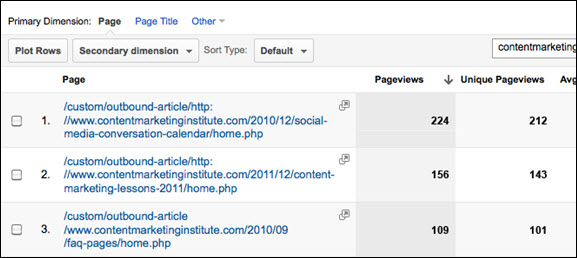 Here's the GA official guide on tracking outbound links. If you're on WordPress, you can use this plugin by MonsterInsights that auto-tags outbound links.
If you want qualitative insights, then you can survey your website visitors usingQualaroo.
You can also send a quick form to your email subscribers for the same. Matthew Woodward recently surveyed his email subscribers using a form at Survey Monkey.
5. Keyword research is equivalent to market research
Did you make note of a repeated fixture in all the above strategies?
We were keen on the exact wordsused by your target audience in forums, your website's search box and the headlines that resonate the most with them.
It's because keywords tell us the problems that your visitors are facing in the exact language they use to describe them.
Keyword research has evolved from simply pleasing search engines to nailing user intent and satisfying your visitors. It's a cornerstone of market research.
Here are 2 tactics that you can use to research content ideas that have a demand in the market.
1. Reverse engineer your competitor's URL in the Google Keyword Planner and let it return with 800 relevant queries associated with the website.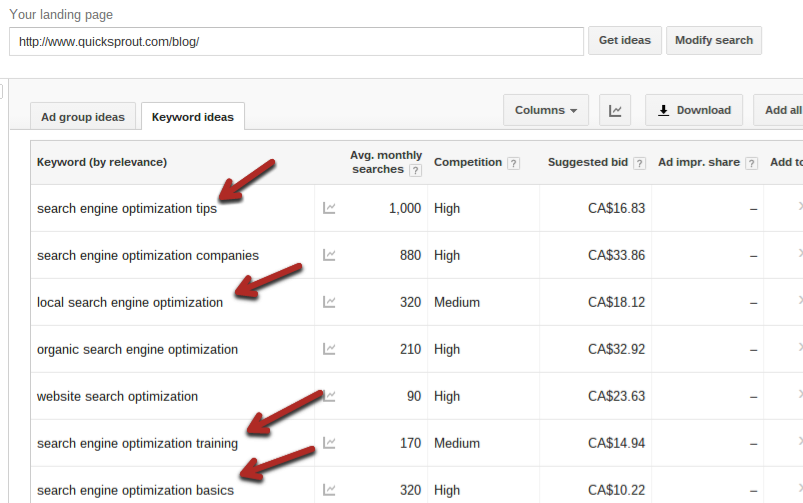 If you want data-oriented insights, you'll need to shell out some dollars on a professional tool like Ahrefs. You can use its positions explorer to find a competitor's top organic keywords.
And, you can then extract the low competition ones to come up with new content ideas.

2. If you've got some seed keyword ideas around the subject you want to write, I encourage you to find their long-tail versions. They are fun to write, get better conversions and are generally easy to rank in search engines.
A great tool to start your long-tail journey is Keywordtool.io – just enter a seed keyword inside the tool.
It'll return a long list of keyword suggestions.
You can also try Ubersuggest for even more keyword suggestions that are sorted alphabetically.
Another great keyword type that gets you brownie points from search engines is the synonyms of the keywords. They are called LSI keywords and are provided by Google at the bottom of its search results page.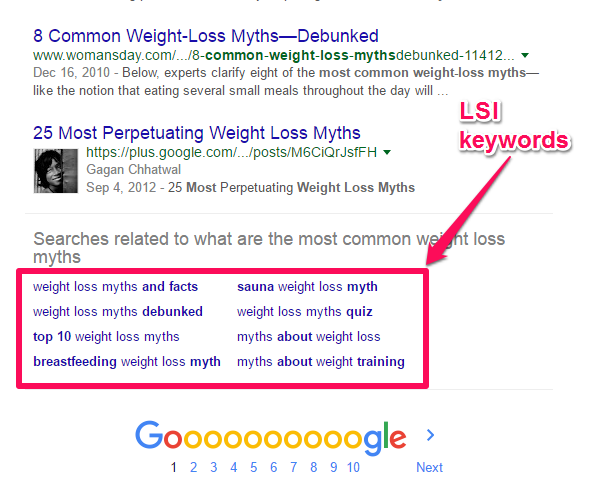 6. Rehash content from a popular book in your niche while adding your own spicy sauce to it
Most of the content written on the internet is more or less inspired from books. If you're a blogger, I am guessing that you regularly refer to popular books in your niche for education.
The simplest kind of blog post can be a review of a popular book that you read recently.
If you've made notes while reading, you can revisit them to come up with interesting content ideas. Maybe you can simply comment on the main idea in a book. The blog post below starts with the blogger's experience reading "The Myth of Multitasking".
You can also share lessons you've learned from a book. I wrote about the 7 lessons I learned from 4 books on copywriting in this post.
If you absolutely love reading, you can also create a post that lists some of the best books grouped categorically. James Clear has a separate website page on books, sorted by their genre.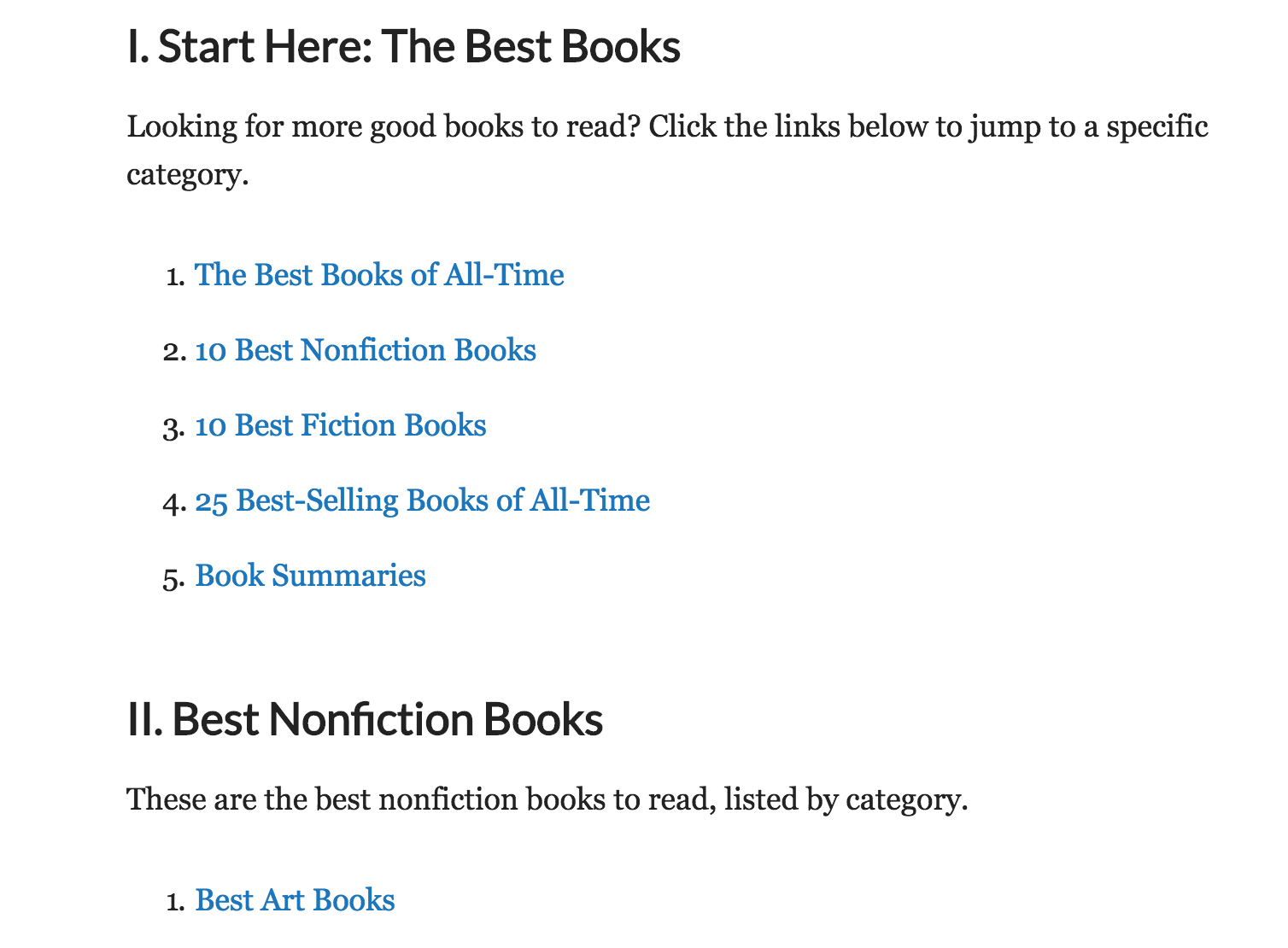 Conclusion
Lists and how-to posts have been a staple textual content format on the internet for a while. BuzzFeed, UpWorthy and many other popular blogs have abused them to get heaps and heaps of traffic.
It's important, though, to strike an editorial balance. If you don't serve a good variety of content, your visitors might feel bored. The writing strategies and tools shared in the post should help you come up with interesting content ideas.
Source:neilpatel