Those are usually the 5 most basic basic pillars of content marketing. Most marketers, though, never question their definition of content. It's assumed that you need to craft textual or video or graphical content that can help your target audience.
I am sure that you've come across this more practical content…
Tools.
Once built, your audience can instantly plug and play with them. They help your readers take action and give an immediate result. So they have a much higher perceived value than the usual blog content that floats around on the internet.
There are three major hurdles that you will have to overcome for developing a tool:
Market research to come up with a tool idea that will get love from your target audience,
Developing and programming skills to create the tool (from idea to finished product),
If you hire a developer, then you'll have to spend a huge sum of money
I've built my own tools at Quick Sprout and here at NeilPatel.com. And, I want to help you overcome these challenges so that you can create your first tool.
Download this 3 step process cheat sheet to know how to create tools in your industry.
Let's begin with gauging the ROI you'll receive from creating a tool. 
I spent $45,000 on creating a free website analyzer…here's the ROI you can expect
Have you ever analyzed your website with the free Quick Sprout tool?
It performs an SEO, content social media and overall website performance analysis.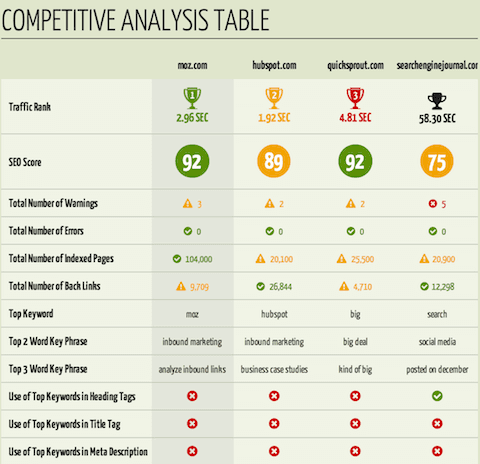 The design, development and project management for the website analyzing tool cost me $45,000 initially. The monthly cost for hosting it would come to around $1150 every month.
So, what kind of response did the tool receive?
Within the first four days: 17,747 people ran 22,562 URLs through it.
And the average pages/visit for every website visitor shot up to 2.35 from 1.8. Even the bounce rate dropped and the average visit duration increased.

The amount of engagement I received from the tool surpassed that from all of my other experiments with crafting multiple types of blog posts, advanced guides and even releasing a forum.
This goes to show that people value software highly and standing out a tool them is easier than with other forms of content.
Indeed, my decision to develop a tool was based on the traffic and leads HubSpot, SEMRush and Moz derived from their free suite of tools.
Now let's discuss the ROI.
Suppose I create a premium version of the tool, by investing $60,000 and sell it at $97/year. Then, at a conservative 2% conversion rate – I can generate $58,200 in revenue each month (you can view the detailed calculations here).
So, it would only take a couple of months to start seeing a great ROI from developing the tool.
I preferred, though, to think long-term and build my brand, even if it required losing some money.
I got tremendous backlinks and business through the tool. And, to date, the tool continues to get good engagement and regular mentions from bloggers.
I understand that you might not have a huge budget to develop a tool on the scale of Quick Sprout. But, I just wanted to show you the monetary possibilities associated with building a feature-rich tool.
Even with limited resources, time and light promotion, you can create a simple tool with basic features and get backlinks to catapult your website's traffic.
Let's look at the exact 3-step process that you can follow to create your own tool.
Step #1 – Prepare a list of the major challenges of your target audience and validate demand
Basic SEO analysis of a website and comparison with competitors is a regular part of an online marketer's workflow. So, making the Quick Sprout tool made sense.
How can you brainstorm for ideas of creating a tool that appeals to your audience?
Here are 3 strategies.
1. Survey your blog readers and figure out their needs
Bryan Harris from Videofruit wanted to launch the first product for his blog. As the name suggests, his website was supposed to educate people around creating videos. But, he found that there wasn't a demand for it.
So, he turned to his Google Analytics and found his website's top performing content by navigating to Behavior > Site Content > All Pages.

He sorted the posts by visitor count.
He recorded the post that got the maximum number of content upgrades from his Leadpages account.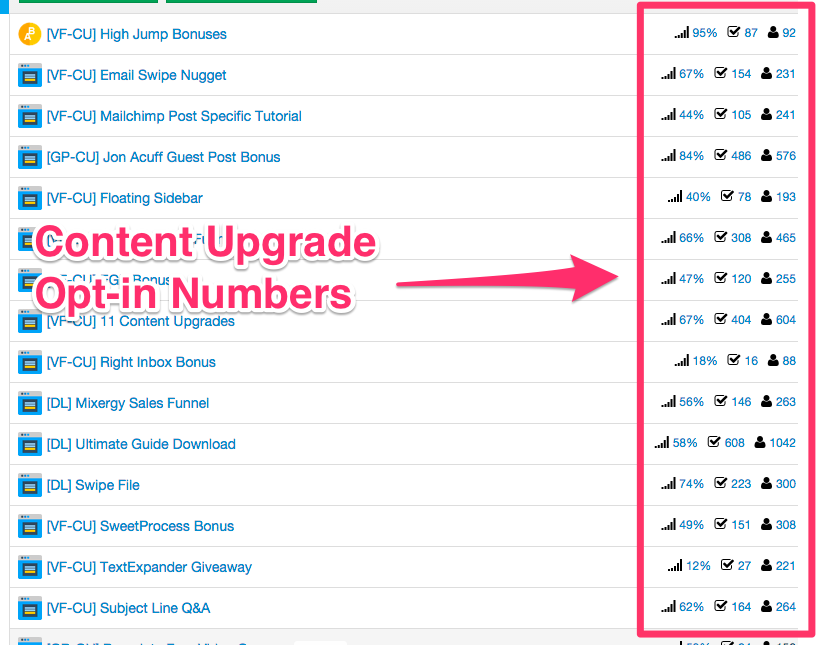 He exported the data to an excel sheet and tried to find a topical overlap between the most popular blog posts – categorizing them into five groups.
Then, he brainstormed ideas for every blog category.
And, he created a focus group of his email subscribers and surveyed them to validate his idea of creating his first product.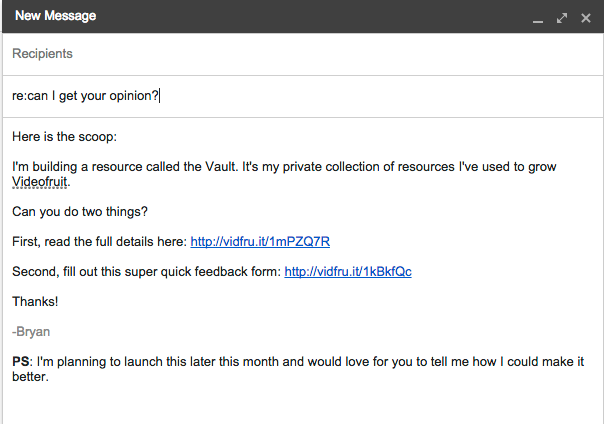 Later on, he also asked for feedback and got pre-orders for his product.
Bryan ended up making $10,000 in 24 hours from his product.
Similarly, you can also survey your email subscribers from your most popular post to come up with qualitative data about your audience's needs.
You can also survey your website visitors directly, using a tool like Qualaroo.
2. The best opportunity to create a tool might lie right in front of you
So, how can you find them?
Just curiously look around your regular blogging workday for your major time wasters.
A great example of using this strategy is Adam White. He teaches about buying undervalued websites and flipping them at Prosperly.
As you might expect, he regularly does SEO for himself, as well as for his clients. And, one major way he uses for acquiring authoritative links is guest blogging. So, he kept an updated list of blogs that accept guest posts.
Now there are many extensive lists of blogs that accept guest posts by bloggers.
But, a major problem that Adam found was that about half of the blogs on these lists no longer accepted guest blogs. He was wasting time on verifying the gigantic number of blogs on these lists.
Adam built his own updated list of hundreds of blogs that would accept guest posts currently. And, it became a valuable resource for himself and his SEO friends.
The list grew so huge that he eventually found it difficult to track the blogs where he submitted his posts.
So, along with a programmer friend, he built a guest post tracking tool that would allow sorting by categories and had tracking ability.
It took just two weeks to build GuestPostTracker.com.
He started offering the tool at a small monthly fee (and later a lifetime price) to other people.
Within 90 days, the tool had made $1100 in revenue.
Similarly, Bill from GreenlaneSEO developed their Outdated Content Finder as a companion to a blog post he was writing on a link building tactics.
The tool helps marketers to find outdated content within a selected time range for an entered keyword.
If you find any outdated linked resource, you can reach out to the webmaster and request that they update it with your content.
Adam worked on it with developer Mike Angstadt as an experimental project. And, within 24 hours, Mike built a working prototype.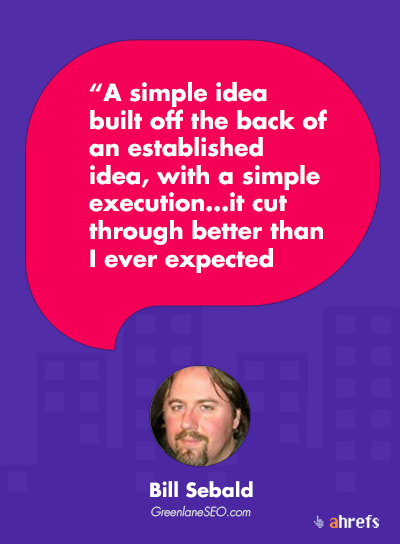 GreenlaneSEO managed to get 246 links from 84 domains and some great brand exposure.
3. Improve an existing tool with current research and data
Are there any old tools that you use regularly, even while they have unprofessional designs and buggy functionality?
This might include tools from the Chrome web store and the WordPress plugin repository.
Even the simple Check my Links extension on Chrome has over 1.6 K backlinks from 746 domains. And, it requires extra effort from the user (scrolling through the page) to serve its purpose of finding broken links.
A great example of a tool that was built on current research and data was the CoSchedule headline analyzer. It has earned 2.46K backlinks from 571 referring domains – an amazing feat.
CoSchedule planned the tool after calculating the Emotional Marketing Value (EMV) of more than a million headlines in their repository.
They combined the EMV score (as calculated by Advanced Marketing Institute's headline analyzer) with other elements that make a headline compelling.
The result was a more robust headline analyzer.
Caution: If the outdated tool you find has complex features, you might need to shell out serious money to outdo it.
After implementing the above 3 strategies, you should have a list with a handful of tool ideas.
Step #2 – Develop the tool (don't go for anything fancy)
Once you've arrived at an idea, it's time to build it. Most of the tool case studies I've shared were built in partnership/friendship between developers and marketers.
I understand that you might not be in such a favorable situation and might also not be well-versed with programming. So, I suggest that you post an ad on freelance marketplaces, like Upwork.
The cost of the tool can run anywhere between a few hundred to a hundred thousand dollars. Ask developers to submit a quote and get the ballpark estimate range for building your idea.
If you find that the quotes are exceeding your budget, then consider building a simplified version of the tool that remains useful to your audience. Or, simply move on to another tool idea from the list you prepared in step 1.
Empire Flippers has built a free website valuation tool as a way to capture leads.
The tool asks for the traffic and revenue figures of your website and sends a detailed valuation report to your inbox.
Can you guess the cost and time spent in developing the tool?
It was under $2K and around 120-150 hours in building and testing the tool.
Empire Flippers already had data on the factors that influence a website's price though. You might need to rely on third party authoritative sources if you're an individual blogger and you want to build a similar tool.
Suppose that you plan to build a tool that gives beginner bloggers a summary of where they should spend their time for quickly building an audience.
Then you can directly use data from Jon Morrow's research on the traffic techniques that generate the best visitors per hours invested.
Further, I recommend that you read thelessons that Pat Flynn learned from building his Smart Podcast Player with freelance developers.
Step #3 – Guest blog and perform light marketing for the tool
If you solve a pertinent audience problem, the tool might end up promoting itself.
For instance, look at this single page resource of SEO and Marketing tools, compiled by SEO consultant Sajio George.
Sajio does not actively promote the tool. He just mentions the tool in his talks and suggests it to people starting out in SEO/marketing in various communities.
Look at the number of backlinks the tool has generated.

You might need to put the tool at a place where it gets good visibility. Empire Flippers put their website valuation tool on their homepage.

And, also pinned it to the top of their Twitter feed.
Guest posting on relevant websites can also help in getting targeted traffic to the tool.
You can also post the tool on niche communities, like Reddit and Inbound.org.
Bryan Harris built Smart Bribe in 6 hours and posted it on Product Hunt for feedback.
And, it ended up receiving great feedback.
While light promotions did well for these tools, all of the bloggers and businesses mentioned above had a decent following.
You might need to substitute with extensive email outreach to influencers or paid search and/or social media marketing to drive traffic to your tool.
Conclusion
The idea of building a tool sounds like a lot of work, involving huge capital and stellar coding skills. You don't need to start fancy, though.
Even if you build a simple resource that adds value to your community, you can get a great ROI from developing it – much higher than your average blog post.
It helps in promotions, though, if you have an existing audience. Bill from GreelaneSEO had a targeted following of 7500+ on Twitter that helped in getting the word out about the tool.
Source:neilpatel